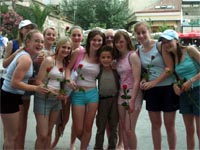 Athens Visit 2004 - Infinity Gymnastics Club
Athens 2002 - Falkirk Team Gym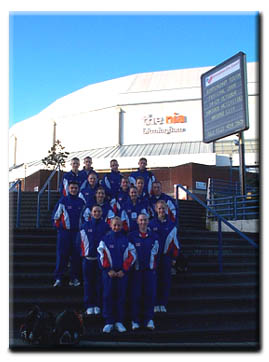 Falkirk Team-Gym compete at EuroTeam 2000 - 30/10/00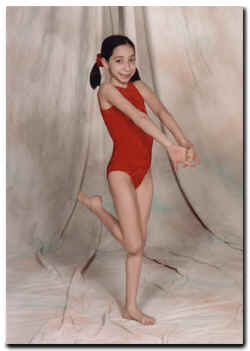 Visit to Falkirk Gym by Miss Christy Lynn Stewart from North Carolina - U.S.A.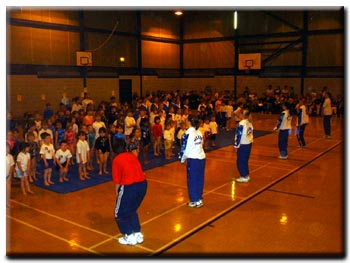 FALKIRK MILLENNIUM GYMNASTICS FESTIVAL

26th May 2000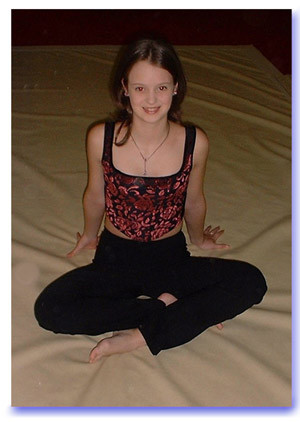 Jennie makes the Miss Milano 2000 Finals !
Miss Milano 2000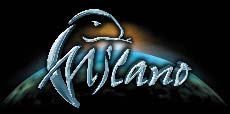 Many thanks to all of you for telephoning to reminding us to give the final report on Miss Milano 2000 - and here it is! Firstly, on behalf of Milano International, I would like to thank all of our 1500+ entires! From there we chose 85 regional finalists who have all recently enjoyed their own personal photoshoot - a fabulous time was had by all!
From the regional entires we chose our Miss Milano 2000 - Christina Fossheim from the North East Region was recently crowned and received her trophy from last years winner, Hannah Swainston. Christina will feature in the 2000-2001 brochure which is currently in production (all the new stunning designs were photographed last week; make sure you're on the mailing list now!).
The regional winners are listed below and can call the office anytime to claim their prize... all photos will be sent out to you very soon with vouchers for prizes unclaimed and also full listings of the lucky winners.
A final thought for all our models to be - our new brochure (launched 7th July) is modelled totally by British Squad Gymnasts alongside current and previous Miss Milano Finalists (some of whom entered the competition five times!) So a big thank you to all who helped make it a fantastic competition - see you next year?!
1999 News
FALKIRK BOYS
GYMNASTICS CLUB
STEVEN SELECTED FOR NATIONAL SQUAD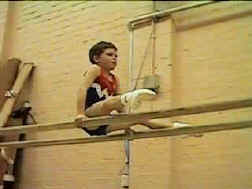 Steven Roberts a pupil at Maddiston Primary and aged just 8 years old is the latest up and coming star to come out of Falkirk School of Gymnastics.
Steven started his gymnastics career at the age of 3 when he joined the Falkirk Jumping Beans, the very popular pre-school Gymnastics classes at the School of Gymnastics in the Cow Wynd. Even at this age Steven was marked down as a future prospect By Administration Director Robert Callahan. Robert said " Even at the age of 3 Steven had all the qualities that makes a good gymnast. He had a small build, was strong and supple and a determination to succeed in any skills he was given"
At Primary School age Steven moved up to the Tumbling Beans and after a year was selected to join Falkirk Boys Gymnastics Club where he joined the other under 8 boys coached by Andrew Webb. For the next 2 years he learned the skills required for men's artistic gymnastics and due to his excellent progress he was entered into the Scottish Squad trials in January.
Steven, his parents and coaches were delighted to learn last week that he had been selected for the Scottish Under 10 primary 4 squad thus becoming the first gymnast who started in the Jumping Beans to make the Scottish Squad.
Robert Callahan added " Although Steven is the first to make this breakthrough we have a number of other talented boys and girls in the clubs at the School of Gymnastics and we hope that many of them will also be selected for the Scottish Squads in the coming year.
Steven lives at Fairways Avenue Maddiston. His favourite gymnastics apparatus is Rings and Parallel Bars.
FALKIRK CHANGES
By ROBERT CALLAHAN
In the last 12 months we have been very busy at Falkirk renovating the upper level in the gymnastics centre, turning what was a 3-bedroom flat into training dormitories. We received a lottery grant of £10,000. Unfortunately this was only 50% of the money required and as a result this is being used to provide materials and contract work that we are unable to do ourselves. The remainder of the work is being carried out by volunteers. We hope to complete this work by Easter if possible but certainly by the summer holidays where kids will be able to stay in the residential facility and train in the gym. It has been a lot of hard work but I am sure when the job is finished it will be well worth it. As far as I know this is the first gymnastics lottery project sanctioned by the Scottish Sports Council.
Last year when we came back from Belgium after our annual trip, we were quite disheartened by the result. In previous years we have managed to come home with a barrel load of medals but in 1997 we were not even close to winning. This was mainly due to the European countries adapting easily to the new code of points. It was hard to believe for myself and the gymnasts to grasp that we were so far behind in a short space of time, only twelve months.
We then had a close look at what we were doing in Falkirk, especially in the men's artistic. I then decided that we would probably have to go in a new direction. We gave all our 11 -15-year-olds the opportunity of taking part in the new and exciting team gymnastics which we felt was appropriate for that age group and also hoped to keep the gymnasts in the sport longer. Most decided to take up team-gym but one or two decided to retire. We decided to concentrate our artistic side on our up-and-coming gymnasts that we had. As a result we have a good team of 5-7-year-olds who have all been very successful last year In beginner competitions, winning a number of individual and team medals and trophies.
One of the other main considerations we had was when Derek decided to retire from competitive gymnastics after 20 years in the sport, due mainly to his first son being born and an increase in responsibility at his workplace In Zeneca. This decision has proved to be correct as he has hardly been at home in the last six months due to major projects at work. This would have had a dramatic effect on any hope and preparation for Kuala Lumpur. However, he has been actively involved in the setting up of team-gym and we are delighted that he is still involved In the sport. I am sure that in future he will still make a major contribution to gymnastics in Falkirk.
Team-gym is going from strength to strength. We have 7 men and 7 women who are training very regularly with performances improving every week. We have already completed our first display at Grangemouth Complex as part of the Scottish Display Team fund raising event and a number of others are in the diary. Later in the year we hope to compete in our first team-gym competition.
We still have a nucleus of very good girl gymnasts in Scottish and Commonwealth squads and hopefully some will be selected for Kuala Lumpur.
So although it might have looked as if Falkirk has dropped off the map over the last 12 months I can report that we are alive and well and still actively involved in the sport.
VIKING GYMNASTS INVADE FALKIRK

When Robert Callahan received an email message from Denmark last month at Falkirk School of Gymnastics, little did he realise that it would result in a Viking invasion of Falkirk of 36 gymnasts and coaches.
While surfing the Internet, Kim Mortenson from the Trustrup Springerene gymnastics club in Denmark found the Falkirk School of Gymnastics web site and sent a message asking if he could bring some gymnasts to Scotland in July for a visit. Robert agreed to their request but when he found out how many were coming almost had second thoughts. However the new residential facilities at the school were almost complete and by using them, local bed and breakfast facilities and hosting by some of the Falkirk Gymnasts, 36 gymnasts and coaches were accommodated.

All the visitors could speak excellent English so a program of visits to our local heritage centres was arranged.
Tuesday was spent visiting Bannockburn, Stirling Castle and the Old Town Jail in Stirling thanks to the Falkirk Tourist Board.
On Wednesday the weather was bad so the whole day was spent sight seeing and shopping in Edinburgh finishing with a display gala night in the Gymnastics entre.
Thursday started with a trip to the Mariner Centre followed by a visit to Callander House thanks to Falkirk Council and despite one of the visitors accidentally setting off the fire alarm and evacuating the building everyone enjoyed the visit.
The visitors put on an excellent display in front of the house in Calander park which was enjoys by everyone who watched.
A farewell party in Smith's Lounge hosted by FalkirkTeam-gymn completed the weeks activities and Falkirk bade a fond farewell promising to visit Denmark next year.